Download
[img]
http://gsmtrick.forumotion.com/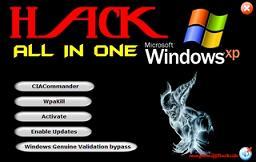 [/img]
Fix the annoying WPA (Windows Product Activation) and get updates too!
Tried and tested with final edition of Windows XP Service Pack 3
Instructions before sp3 installation:
1.Download and apply the PRE-SP3 Registry patch, found here:
http://rapidshare.com/files/113504363/PRESP3_Patch.rar
2.Download/Install SP3 from Microsoft Update or Download Centre (NOT INCLUDED)
http://www.microsoft.com/downloads/details.aspx?FamilyID=2fcde6ce-b5fb-4488-8c50-fe22559d164e&DisplayLang=en
3.Apply the activation procedure found in the download (see "Download" section below)
How to use:
Great GUI atmosphere makes it easy to use. Read info text files once downloaded.